To celebrate Coventry's City of Culture, local musician, Seb Farrall, is calling on all musicians to get involved in an exciting project.
To celebrate Coventry's City of Culture, local musician, Seb Farrall, is calling on all instrumentalists to get involved in an exciting musical project.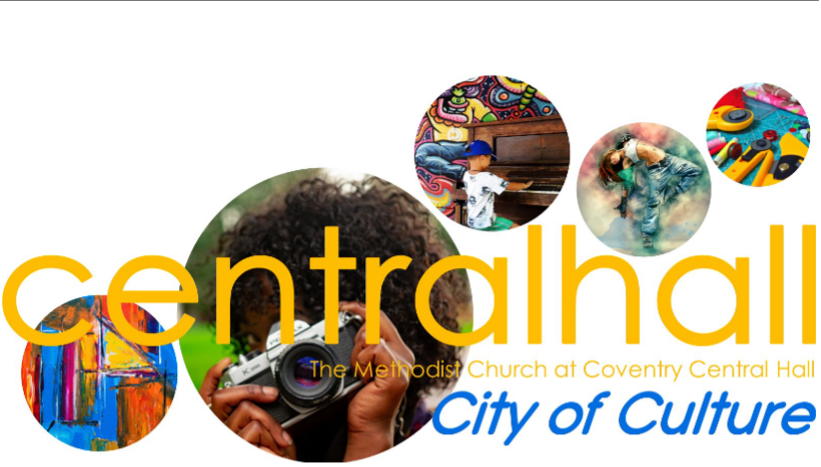 As part of Coventry Central Hall's City of Culture "Artists in Residence Programme" (AiR), Seb is starting a brand new orchestra. The AiR programme is funded by Coventry and Nuneaton Methodist circuit and supported by Methodist Church at Coventry Central Hall. Membership of the orchestra is open to all and rehearsals begin in September, working towards a large-scale celebration concert in April 2022 at Central Hall.
Seb encourages everyone to get their instrument out whether well-versed or slightly rusty:
"Making music in a large ensemble has been a very important part of my life, for as long as I can remember. Something magical happens when people get together to make music, and I'm very excited to be leading a project to celebrate our city of culture in this way."
While the orchestra won't be for complete beginners, those who have perhaps let their instrument collect dust for many years are encouraged to sign up and come along, as well as those who are more up-to-date with their skills. We also welcome players of instruments which don't normally feature in an orchestra.
Seb added:
"I know so many people who played an instrument when they were younger and have just stopped playing for a variety of reasons. My hope is that these people will be encouraged to once again get their instruments out and enjoy this great opportunity to celebrate the City of Culture through music."
The repertoire of the concert will be celebrating Coventry, and will be inspired by reaching out to the people of Coventry themselves. The concert repertoire will be wide-reaching, encompassing both the traditional Orchestral works linked to Coventry, but also some songs from the Pop/Rock genre:
"I'm also very keen to include both performers and music of diversity that an orchestra wouldn't normally include. Coventry is a city which represents many cultures and this concert will reflect that."
The celebration concert will feature a 'Festival Chorus', amalgamating local choirs and singers, as well as featuring already existing ensembles performing in their own right who perhaps normally wouldn't get the opportunity to perform on the big stage.
"In my time of making music as a conductor, I have come to realise that the most important thing has always been people. The music gets better when the performers are socially and emotionally in sync and I know that this orchestra will be a fun, enjoyable, and special experience for anyone who joins."
"I can't think of anything better to bring people together in order to celebrate our shared culture, especially after a year that has left no room for this sort of music making."
To encourage up-and-coming composers, we are also hosting a composition competition, with the winning work being premiered at the concert. There are two categories: Open and Youth, with prizes of £1500 and £500.
"Having entered, and won a runner up prize myself in a similar competition as an A level student, I know how encouraging this can be and is what ultimately started my journey in studying music composition at Coventry University."
"If you have some great ideas of songs or pieces of music which represent Coventry (however tangential!), or would like to be involved with the orchestra itself, head to coventryorchestra.co.uk to find out more. Remember, whether your instrument would feature in an orchestra normally or not, we need you, and you are welcome here!"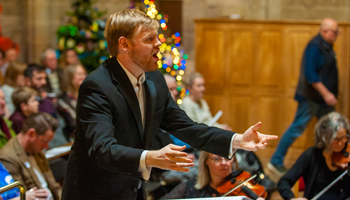 The project will be led by local conductor Seb Farrall, who came to Coventry in 2011 to study Music Composition at Coventry University, and since graduation in 2014 with a First Class Degree has continued to live and work in the area. Seb was tutored in conducting by Christopher Evans as student conductor of the University Orchestral Ensemble, and has continued to take those skills daily into his professional life. Seb currently directs six choirs who meet regularly, as well as being involved in other projects.
Although Seb is known predominantly as a choral director, it is a well-known fact that choirs and orchestras go together well, and Seb has taken the baton numerous times harnessing upwards of 100 musicians with both choir and orchestra. Seb has also had the privilege of travelling the world as a percussionist, and playing in some famous concert halls such as The London O2 Arena and the Albert Hall. For more information about Seb, head to this page.

To get involved with any aspect of this project, head to the Get involved page where you can take part!